ул. Pod Nouzovem,

Praha 19
Коммунальные услуги:
177
EUR
Параметры
Планировка: 4 комнаты с встроенной кухней
Площадь: 114 m2
Užitná plocha: 114 m2
Парковка: Место в гараже
Терраса: Да
Лоджия: Да
Балкон: Да
Этаж: 3-й этаж
Лифт: Да
Обставлено: Нет
Описание объекта
Exclusive offer of the spacious 3BED apartment in Prague 9 - Kbely, street Pod Nouzovem. Housing unit with a total area of 101 square meters is situated on the 4th and 5th floor of a new building from 2006 and consists of: 1st floor - a spacious hall with a chamber, where we can find the access to two bedrooms (both have access to a terrace of 7 sqm), bathroom with tub, separate toilet and living room with kitchen brand Hanák with built-in appliances (oven, ceramic hob, dishwasher, microwave, separate refrigerator with freezer), where we can access to the second terrace with an area of 5m2 which can be shaded by an awning. Providing with high-quality staircase we can enter the second floor of the apartment, where there is another bathroom with shower and very spacious bedroom. At the staircase is a practical space with a large built-in closet. The apt was partly reconstructed in 2011 - troweling and leveling of all floor surfaces (except kitchen), underfloor heating in the kitchen, new door frames, renovation of the internet network (new wiring in the kitchen and bedroom on the second floor), net and blinds on the roof windows in the bedroom on the second floor, where is new spruce library, safety system by Jablotron, which was installed in 2013. Service charges are 4.500,- + electricity consumption. The price includes one parking space (larger dimension) - closed providing with a blind. It is a quiet location, ideal for families with children, perfect access to the Prague city centre, especially thanks to the train connection. In the village there are all services, primary / kindergartens, restaurants, in the centre a beautiful central park etc. If you don't want to waste your time, It will be a pleasure to send you a link with a virtual tour to have a complete idea of the property offered (360° tour with video orientation as you wish).
360° Foto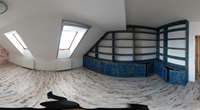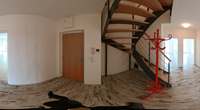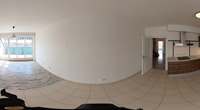 Virtuální prohlídka
Спрос
3BED apartment in Prague 9 - Kbely, street Pod Nouzovem
1 082
EUR
/ Месяц
Коммунальные услуги:
177
EUR
Robert Poppl
+420 608 832 362
robert.poppl@bohemianestates.com