Коммунальные услуги:
84
EUR
Параметры
Планировка: Студия с выделенной кухней
Площадь: 41 m2
Užitná plocha: 41 m2
Парковка: Место в гараже
Терраса: Да
Лоджия: Да
Балкон: Да
Этаж: 4-й этаж
Лифт: Да
Обставлено: Частично обставлено
Описание объекта
Exclusive offer of the brand new, high-standard finished studio apartment with a total area of 35 square meters with a balcony with an area of 6 square meters. The apartment is located on the 5th floor of a just completed new building built by CPI in Prague 9 - Hloubětín, street Lehovecká No. 1. The apt consists of a hall, where there is a wardrobe, a spacious bathroom with a bathtub, a toilet (a designer washbasin with a wardrobe and a mirror will be installed), where there is also space for a washing machine (the owner can arrange it via the agreement). Next to the hall is a living area with a beautiful designed kitchen from company Hanák with all built-in appliances (dishwasher, refrigerator with freezer, hob, oven) with a light, where you can setup the intensity of the light. To the apartment belongs a parking space. The apartment is available immediately. Service charges are CZK 2,200 + electricity consumption (will be transferred to the tenant). Long term rentals welcome. If you don't want to waste your time, It will be a pleasure to send you a link with a virtual tour to have a complete idea of the property offered (360C tour with video orientation as you wish).
360° Foto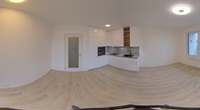 Virtuální prohlídka
Спрос
Brand new, high-standard finished studio apartment in Prague 9 - Hloubětín, street Lehovecká
422
EUR
/ Месяц
Коммунальные услуги:
84
EUR
Robert Poppl
+420 608 832 362
robert.poppl@bohemianestates.com